About Us
Voice of Kibera is a citizen reporting project based in Kibera, Nairobi. The project is an initiative of Map Kibera and uses the Ushahidi platform to aggregate and map reports.
Voice of Kibera aims to give collective global voice to Kibera residents by aggregating local citizen reports, Kibera community media and other relevant news and information. In partnership with various local organizations, the Map Kibera team (http://mapkibera.org/) launched Voice of Kibera to visualize reporting in and about Kibera (one of the largest slums in Africa). Voice of Kibera has been actively engaged with the community and has formed an Editorial Board comprised of representatives from KCODA, Hot Sun Foundation, Kibera Mpira Mtaani, Mchanganyiko, Kibera Community Youth Programme, Map Kibera, and Ushahidi.
Follow the Voice of Kibera project on Twitter @VoiceofKibera
 
The Voice of Kibera Editorial Board
The Voice of Kibera Editorial Board was formed in May 2010. The Editorial Board is responsible for the site administration, including verifying incoming messages. The Board members also act as SMS reporters within their community, sending in messages to let Kibera and the world know what's happening around them.
 
Sande Wycliffe

"I am a go getter! If you stand in my way, I don't worry because you will never ever deny me the opportunity to get what I want."
Sande is a community leader who is motivated to see " a more positively transformed Kibera [in terms] of, infrastructure, information and knowledge exchange and above all unity of purpose for [the] people [of Kibera]." Sande hopes that he can work together with other community leaders to achieve change. His involvement in Voice of Kibera began after he attended a presentation on the project at a Global Giving workshop earlier this year. Sande says he was eagar to learn more about the Ushahidi platform - upon which the Voice of Kibera site is built - to use it, made me have a feel of getting involved for In the back of his mind, Sande says "I saw it to be a super nice platform for information dissemination - it acts as an online media tool for Kibera and its people." Sande notes that the project is already beginning to provide the world with tangible proof of what happens in Kibera, as opposed to media propaganda that the people of Kibera have always seen.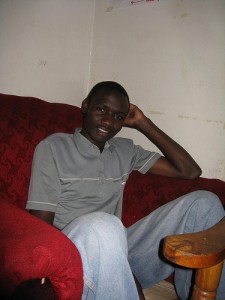 Fredrick Bary

Fredrick is a member of a community youth group and is involved in environmental issues, such as tree planting, community clean ups. He is also a peer HIV/AIDS educator, which includes encouraging youth to be more creative in how they spend their time; he spreads the message "invest in [your] time and [don't just] spend it. Fredrick hopes that his peers will get involved in youth programmes as a way of empowering themselves through engaging in differen activities that allow them to affect positive change within the community - just as Fredrick has done himself. Fredrick's involvement with Voice of Kibera began when he learned about the project through a friend. When asked why he's involved in the project, Fredrick says "more often people associate Kibera [with] violence and all sorts of negativity, giving the world at large a negative mentality toward Kibera. [I'm thankful for] the Voice of Kibera because it gives out the true image of Kibera, highlighting [the community's] grievances as well as their views in all areas of life; it's through Voice of Kibera that one gets precise, reliable and up to date happenings within Kibera without exaggeration as some media houses do. I feel great when I give out the truth regarding Kibera."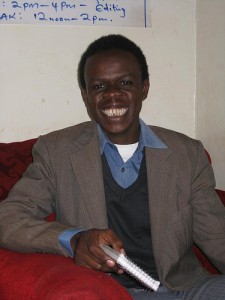 Josphat Keya
Josphat is currently the Program Coordinator at the Hot Sun Foundation, a charitable trust based in Kibera. As Program Coordinator, Josphat plans events and coordinates the day to day operations at Hot Sun, an organisation that empowers youth through media and arts. He is also involved in collecting community stories through Kibera TV, which is how he heard of the Voice of Kibera project. Josphat states however that his involvement with the project is more than just as a representative of Hot Sun Foundation. He says he is also representing the voice of some youths in my community. Ãs the name states, Voice of Kibera is literally a voice for the people of Kibera - a voice [through] which they can tell what it is happening around them. He says heI feel privileged to be part of this initiative. Outside of his work, Josphat loves doing research. He says I love going deep into issues that people tend to shy away from, not to just know what it is that is making them to shy away but to understand the reasons behind it - you never know maybe I can help.But the thing Josphat loves doing the most is œinteracting with people, socializing or simply making new friends. I see this as a powerful tool in bringing people together and learning what you had not known before about a particular people; in doing this you end up appreciating the people you meet.
Gerry Omondi
Gerry has training in Community Based Project Planning & Management and is the deputy administrator with a women's organisation called Mchanganyiko. His responsibilities with the group include planning and managing the expansion the group's programmes and resources. He is also involved in strategizing on how the community can benefit from Mchanganyiko's activities. As part of the organization's policy, Gerry ensures that the networks Mchanganyiko builds benefit not only the organization, but also the community at large. Gerry says he enjoys the challenging work. During a TEDx Kibera presentation, Gerry learned about Map Kibera - the digital mapping project in his community. Gerry says he's immediately grasped its importance. Since that time, Gerry says Kibera has steadily emerg[ed] as a powerful tool for not just locating place, but also for influencing the social, political & economic spheres in Kibera and beyond.Gerry was intrigued by the project and felt that that it was his call is to be a development ambassador [which is] something I find in common with the rest of the Voice of Kibera team. He says connectivity is the overriding fuel [behind my work] and this revolutionary platform is where to be! Gerry takes his work seriously, but is a compassionate person who understands that empathy, rather than sympathy will allow him to engage with others in his community. Gerry admits he's a night owl and can often be found watching his favourite football team - Arsenal FC.
X-NONE MicrosoftInternetExplorer4
 
 
 
Ibrahim Abdi Hussein,
My ambitions is to become a great blogger,community developer and Journalist . Born  n raised in the hood of  kibera  schooled upto High school,,Interests  in  making kibera a better place . Currently  i work with map kibera trust in a programme , voice of kibera Am a sms reporter ,editor photographer n a blogger